Veggie Black Bean Burger
Veggie Black Bean Burger
This was the easiest meal I had made in a long time, except for the prep. Getting all the veggies ready and the since I wasn't using the canned beans, it seemed especially long for me. I love burgers. Whenever I'm visiting India, I dish out on the McPaneer at McDonald's. McDonald's is a huge thing in India, though the craze is somewhat diminishing over the rise of other fast food chains. McAloo Tikki Burger and McPaneer are my favorite and do not miss on an opportunity to eat up when I'm visiting Hyderabad. I absolutely love to gorge and stuff myself with them. The Piri Piri powder that they have for the fries is addicting. The burgers that are available here aren't as addicting as the ones back in India. Well, let me rephrase that – the vegetarian burgers that are available here aren't as addicting as the ones back in India. I wish McDonald's just gave in and put up McAloo Tikki Burger on the menu universally. We love burgers in our family. VJ loves them and I'm not so sure about Arlo yet, but he loves the occasional junk as well. I've made veggie burgers before, but they weren't that good.
So this time I was determined to make it taste amazing. So I have been looking at Pinterest, Tasty and other food blogs for some time and never found a recipe I liked, so I decided to combine a few and make my own. It's not very original but I have succeeded. VJ loved it and my soul is satisfied. I wish there were more appreciators for my burger. We never eat broccoli in our house. I mean, we hardly use cauliflower and broccoli sounds just a lot of hard work. So I made VJ buy some broccoli this weekend. I didn't know what to do with it until it hit me – I COULD MAKE BURGERS! So last night I soaked some black beans. I am out of the canned black beans and also I heard from someone that they are loaded with sodium, so here's to being more healthy. So I soaked them a good 12 hours before I was about to make them. I love black beans. The use of it in Mexican food is amazing. I like the taste of them and also they are delicious. I do not know the name for Black Beans in Telugu (my mother tongue), but I haven't had them before in India. I use a lot of black beans in my fajitas, but other than that I really don't use them anywhere else. I used corn in this recipe which isn't technically a vegetable but calling them Corn Black Bean Veggie Burger was a bit lot. I made around 14 patties because I wanted to freeze 10 of them for my brother in law and my little sister. The below recipe should make around 6-8.
Ingredients
Black Beans – 1 cup (uncooked)
Corn – 1 cup (100 grams cooked)
Carrots – 2
Broccoli – half a head
Bread Crumbs – 1 cup
Garlic Powder – 1 tablespoon
Onion Powder – 1 teaspoon
Red Pepper Flakes – 1 tablespoon
Paprika – 1 tablespoon
Parmesan – 2 tablespoons (optional)
Salt – As required
Pepper – 1/4 teaspoon
For the Burger
Pepper Jack Cheese slice – 4-6 (1 per burger)
Tomato – 1 medium sized
Onion – 1 small
Tomato ketchup – as needed
Hamburger Buns – 4-6 (as needed)
How to Make
Step 1: Wash the black beans and then soak them for 12 hours. Then pressure cooker them for around 3-4 whistles or 20 minutes on High Pressure in your Instapot (I used the Instapot).
Step 2: Wash the broccoli and grate it into a bowl, do not grate the stalks. Squeeze the water off the grated broccoli and put it into a huge mixing bowl. Wash the carrots, peel the skin and grate it into a bowl. Squeeze the water off the grated carrot and add it to the broccoli.
Step 3: Cook the corn and strain it so that it has no water (I used the frozen one so I popped the bag into the microwave to cook it). Add the corn to the broccoli and carrot. Strain the cooked black beans and add them to the veggies.
Step 4: Mash them so that the corn and the black beans are a bit mashed. I cooked the black beans a lot so mine were mashed beyond recognition.
Step 5: Add the bread crumbs, garlic powder, onion powder, red chili flakes, salt and pepper. I used my hand at this point to mix it all in. I added the parmesan last and mixed it up again. Now keep it in the fridge for around an hour, just to cool the mixture off a bit.
Step 6: Preheat the oven to 400F. In a tray, line it with a parchment paper or baking sheet. Take tennis ball sized mixture, and flatten them out into patties and place it on the sheet. Repeat until you are out of the mix. Spray the patties with oil (I used Canola oil spray).
Step 7: Place the tray in the oven and cook them for 12 minutes. Once 12 minutes are done, remove them cover the patties with a single slice of the cheese and cook them for 2 minutes or until the cheese just starts to melt.
Step 8: Chop the onions and tomatoes into slices. Warm the bread up on a pan, just to soften up the buns. Apply some ketchup on both the buns, place the patty with the cheese on the bun. Put a slice of tomato and onion on top. Cover it with the other bun and serve.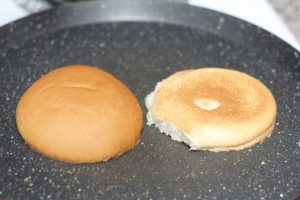 Step 9: Serve it with a side of ketchup (tomato sauce) and some potato chips.
Tips:
You can use any cheese slice instead of Pepper Jack. You can use Amul Cheese or Provolone or Mozzarella.
You can switch broccoli with cauliflower but the taste might not be the same.
Instead of breadcrumbs, you can use potato or sweet potato for the startch or quinoa or brown rice.
To make it spicy you can increase the number of red pepper flakes.
To make the tots that are finger food for Arlo, I took a tennis ball sized mix, put in 1/4 cup of cheese, mixed it well, made tiny balls (the size of marbles) and baked it with the burger patties.
You can use chickpeas or black eyed peas or kidney beans instead of black beans. It will definitely alter the taste of the patty, but it will surely be delicious.
You can also use lettuce with the tomato and onion. Since I did not have any I did not use it on the burger.