Peas Quinoa Chapati
Peas Quinoa Chapati
I seriously do not know the difference between chapati, roti and phulka. The way I make phulka is that I do not add any ghee or oil. I think I have googled it many times but never could get an answer that satisfied. Since my little sister moved out, VJ and I have been eating a lot more roti's. For some reason, VJ doesn't do well with roti's every day. So I decided to make it every alternate day. So I was feeling particularly bored and had this entire bag of quinoa that I bought a few months ago. I like quinoa dosa. It's very healthy and tasty too (when you dip it in tons of sambar). Not wanting to make dosa, I came up with this brilliant idea to throw some in the roti dough. Now, I have a Kitchen-Aid Stand-In Mixer, so it's very easy for me to make the dough. I throw everything in and turn it on and it's ready in a few minutes. I have to keep an eye on it though, but it's usually quick. I added the peas as a second thought to make sure that the smell of the quinoa is masked. I wanted to use spinach but I was out, so I had to go with peas. Arlo loves colorful food, so I try to incorporate veggies into the roti dough.
The smell of quinoa is terrible. I don't know how everyone eats quinoa or brown rice. I cannot handle it. I'm sure I have the gene that makes cilantro tastes like soap. For me it's not exactly soap, but more like dishwashing liquid or Tide. I haven't tasted both, but if I did I'm sure they would taste exactly as raw cilantro tastes to me. So I try very hard to cook down the cilantro every time, but I think that might be same with some vegetables. Arlo loves peas and it makes me so happy, and then he won't eat them again. I have to literally sit with him the next time I make peas and he won't even let it touch his tongue. Luckily for me, it was the day Arlo was into peas and the mommy part of me rejoiced. VJ loved it too, though I wasn't sure of the texture. It was a hit or miss kind of dough and I was ready to cook rice if it didn't turn out right. The dough was very smelly and I was very worried, but as I cooked it, it totally disappeared. VJ didn't even realize that there was any quinoa in there until I told him. The challenge that I had was that making the dough exactly for 6 roti's was really hard, so I was leftover with about enough dough for 2 more. The below recipe makes around 8-9 rotis depending on how you are rolling them.
Ingredients
Quinoa – 1/2 cup
Whole wheat – 1.5-2 cups
Yogurt – 2 tablespoons
Peas – 1/4 cup (I used the frozen kind)
Salt – As required
Water – As required
How to Make
Step 1: In a jar, crush the quinoa coarsely and keep it aside.
Step 2: Wash the peas thoroughly and steam them. I used my Instapot to steam them, but can be done on the stove top too. Once they are steamed, puree them without any water.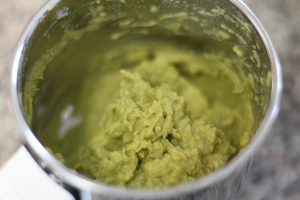 Step 3: Take the quinoa powder, pureed peas into a huge bowl and start mixing them together. Now add the yogurt and the salt (since I used the kitchen aid, I dumped everything in there at once).
Step 4: Add wheat flour slowly, start with half a cup and increase it as you are making the dough. I used around 2 cups. I used around a tablespoon of water and not much.
Step 5: Spray with some oil (or coat) and keep it closed and aside for an hour.
Step 6: After an hour, knead the dough for a few minutes and divide into golf ball sized balls. Roll them with the rolling pin like a tortilla or a roti.
Step 7: Heat a tawa (or a cast iron griddle). Once hot put the rolled dough on it. Wait for 30-45 seconds before flipping it. The first side should be completely done before flipping. Most of mine did not rise, but the last one did and I was incredibly proud of that one.
Step 8: Serve it a drizzle of ghee (or butter) with any dal or korma or curry on the side. I served it with carrot salad the recipe can be found here.
Tips:
You can substitute peas with spinach.
Before pureeing you can add a few green chilies and some ginger to make it a bit spicy.
You can increase or decrease the amount of quinoa, but my increasing the dough's consistency changes and might not work.
Po