Grated Carrot Salad (for Roti)
Grated Carrot Salad (for Roti)
Technically this isn't a salad per se, as we don't eat it by itself. Mom usually used to make it, to eat it with chapati or rice and it kind of continued as it's so easy to make, and doesn't require many ingredients. The hardest part of this dish is grating the carrot. It's so healthy, so delicious and so yum, it doesn't last more than one day in our house. It stays fresh for a few days in the fridge, but trust me everyone is going to gobble it up the same day. My sister usually eats it by itself though I make it for roti. She eats the 2 tiny roti's and eats the Salad. I somehow think it's better when Mom makes, I don't know why. I don't make it as regularly as I want to since the grating takes up some time and Arlo doesn't let me do it much. He wants me to pay attention to him all the time. So this time I only made very little and Arlo loved it too. My little picky eater loved eating something healthy.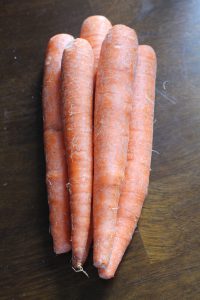 I've been complaining to VJ about how I've been accumulating all the baby fat at my tummy. Till now I've gotten away with eating what I want by blaming it on breastfeeding. Breastfeeding made me incredibly hungry. If I didn't eat enough carbs, I was close to fainting. So I got away with eating rice, but now that I've almost stopped breastfeeding I cannot blame it on that. I guess I was just avoiding the diet. And now that my sister has moved away, I can concentrate more on cooking healthier than just getting food on to the table. I just want to make sure that everyone is well fed and shouldn't go out for lunch or dinner when I'm well and able to cook (laziness is another thing). Of course now and then we go out (a lot more than we can afford), but I've been trying to cook healthier at home more often now. I paired this with Peas Quinoa Roti that turned out to be not so bad. The quinoa didn't smell, because of the peas, but it did smell of peas. Arlo did not prefer it much, so I gave him one with cheese instead. Pairing the roti with this was such a healthy dinner and I felt happy about myself.
Ingredients
Carrots – 4 (peeled and grated)
Lemon – 2
Salt – As needed
Green Chilies – 6 or 7 (can reduce or increase)
Channa Dal – 2 tablespoons
Urad Dal – 2 tablespoons
Asafoetida – 1/4 teaspoon
Mustard Seeds – 1 teaspoon
Cumin Seeds – 1 teaspoon
Curry Leaves – 4 or 5 (optional)
Oil – 3 tablespoons
How to Make
Step 1: Take the grated carrot in a huge bowl. Squeeze the juice out of the lemons to the carrots, and add the salt and give it a good mix.
Step 2: In a small tempering pan, add some oil. Once the oil is hot, add the channa dal and urad dal, as they start to change color, add asafoetida, and mustard seeds. As the mustard seeds start spluttering add in the cumin seeds, and then the green chilies and curry leaves.
Step 3: Add the tempering to the grated carrot, mix it well.
Step 4: Serve it with Rice or Roti or Paratha or as a side salad with rice.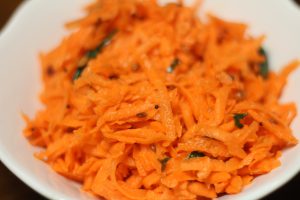 Tips:
You can use cilantro (coriander) as a garnish at the end.
A reader suggested sprinkling raw grated coconut.
You can skip the tempering and instead add a little bit of olive oil for fat.