Pancharatna Pappu
Pancharatna Pappu
Phew!!! It's been so long since I posted anything since Arlo has been sick. He has been down with the most terrible cold and cough! He hasn't been eating so he became our top priority for the past few days. It's been impossible to get away for a minute and I'm exhausted by the end of the day. And to make things worse, I got sick with a cold and cannot stop sneezing and my nose can't stop leaking. So as I have said things couldn't get terrible, but yeah they did; VJ started feeling crummy. So on the weekend all three of us were moaning and Arlo won't sleep. My BIL (Brother In Law) just returned back from his trip to India, I didn't want him to miss home any more than necessary, so I decided to make something up, but I already did groceries and was taking care of the sick family throughout the day, so I don't remember how I managed to cook up a meal. Luckily I bought these Costco Organic Roti's earlier, so I only had to come up with one dish.
So I wanted to make something really awesome for BIL, I was thinking a huge spread, but I could barely stand so I decided to make something appetizing the least. Pancharatna is five types of dals, so as you've guessed I've used five different types of lentils to make this. I made my job simpler by blending up most of the ingredients, but if you have the patience you needn't do that. I used only onions and tomatoes, but you can also use spinach or Fenugreek Leaves or some cabbage or another veggie that goes well with dal. I did not want to use any masalas, but I ended up using only a bit. And not to say the roti's were good. When I say good, I mean good for something that's pre-made and preserved. I don't like using pre-made stuff, but I've been trying a lot to make roti's more but I've been unable to make with Arlo so mobile throughout the house. So here's what I used and here's how to make the dal.
Ingredients
Toor Dal – 1/4 cup
Moong Dal – 1/2 cup
Masoor Dal – 1/4 cup
Channa Dal – 4 tablespoons
Split Pigeon Peas Dal – 4 tablespoons
Ginger – 1 inch pieces
Garlic – a whole bulb
Green chilies – 2 or 3 (optional)
Onions – 2 medium sized
Coriander Powder – 1 tablespoon
Turmeric – 1/2 teaspoon
Salt – As Required
Garam Masala – 1 tablespoon
Kashmiri Red Chili Powder – 1 tablespoon (adjust accordingly)
Tomatoes – 4 medium sized
Oil – 3 tablespoons
Butter – 5 tablespoons
Cumin seeds– 1 teaspoon
Mustard seeds – 1 teaspoon
Asafoetida – 1/4 teaspoon
Water – 4 cups
Lime – 2 whole
Cilantro – a few tablespoons
How to Make

Step 1: Take the ginger, garlic and green chilies and blend them together. They don't need to be a smooth paste, and can be a rough chop too. You can either chop them into small or use the paste. Chop the onions thinly or give them a rough chop. Puree the tomatoes. Keep these all aside.
Step 2: Take a pressure cooker and make sure it's hot. Add the oil and butter. Once the oil and butter melts, add the ginger, garlic, and green chili paste. Let them fry until the raw smell of garlic goes away. Now add the onion.
Step 3: Two minutes into frying the onion, add the turmeric and half the salt. Give it a nice stir and keep stirring every 2-3 minutes. Once the oil starts to separate, add the coriander powder, garam masala, Kashmiri Red Chili Powder and give it a mix. Now add the tomato puree.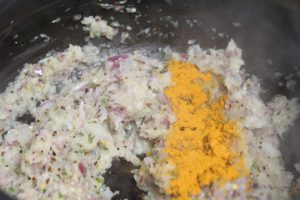 Step 4: Mix the tomato puree in and place a lid. Keep mixing it every 5 minutes until the fat oozes out. Now add in the washed dals and the water.
Step 5: Pressure cooker for 5 whistles and let it cool down. Once it cools down, squeeze the juice of the limes into the dal and give it a quick mix.
Step 6: Garnish with some cilantro and a dollop of butter and serve with roti/rice/naan.
Tips:
You can use green split beans instead of split pigeon peas.
You can use urad dal instead of channa dal.
The masoor dal, moong dal, and toor dal are important for the taste, the other 3 can be of your choice.
Po