Sambar Podi (Powder)
Sambar Podi (Powder)
I make sambar quite regularly at home. Arlo always wants to have sambar with his idli that I make at least once every week. VJ loves it with pongal and rice too. Arlo is his father's son when it comes to his eating habits. He loves all sort of crunchy things like his dad too. But our little family loves sambar. My little sister and dad are not huge fans of it, but mom and me love it. I got lucky that my baby and husband have similar taste buds as me. I make sambar podi fresh every time I make it. I switch between a sambar podi and a sambar paste. The paste has coconut in it, but the podi doesn't which makes the podi last a lot longer than the paste. VJ loves it any way I make it which gives me the pleasure to make it all the time. I'm going to India to spend some time with my parents and let my in-laws have the pleasure of knowing Arlo too. Though VJ is quite independent with his cooking, I still don't trust him that much in the kitchen. I don't mind cooking and he doesn't mind not cooking. But now, I'm leaving him alone for the first time and my guilty heart wants to leave VJ with a bunch of food behind.
I made a huge batch of snacks for him and froze some tomato rice and also a few curries that he can eat with rice. But of course I do not have a huge freezer, so I can only do so much. So I decided to make as much as the freezer can take and then write down some recipes. I made some Chaaru Podi and some Sambar Podi to help his cooking easy. The best thing about the podi's is they are good for about three months or even four months when stored in an airtight container. This recipe is only to make the Sambar Podi (or Sambar Powder) that you can use to make sambar and not the recipe for the entire sambar. Instead of buying the powder you can make at home in bulk and keep it in stock. Someone told me that the powders have lot of sodium in it and also added chemicals. Since then I have tried to make them at home as much as I can.
Ingredients
Urad Dal – 1/2 cup
Channa Dal – 1/2 cup
Toor Dal – 1/3 cup
Moong Dal – 1/3 cup
Masoor Dal – 1/3 cup
Coriander Seeds – 1/2 cup
Black Peppercorn – 4 tablespoons
Fenugreek Seeds – 1/4 teaspoon
Cumin Seeds – 2 tablespoons
Dried Red Chilies – 15-20
How to Make
Step 1: Dry roast each of the ingredients individually and keep them aside in a plate until they cool down.
Urad Dal

Dry Roasted Urad Dal
Channa Dal

Dry Roasted Channa Dal
Moong Dal

Dry Roasted Moong Dal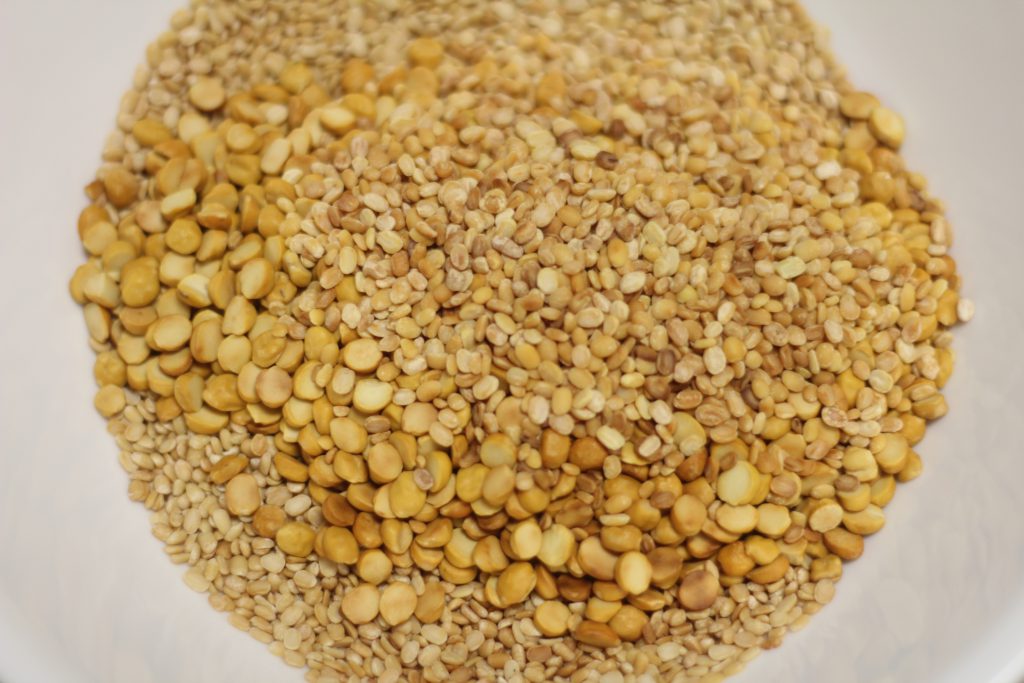 Toor Dal

Dry Roasted Toor Dal
Masoor Dal

Dry Roasted Masoor Dal
Black Peppercorn

Dry Roasted Black Peppercorn
Coriander Seeds

Dry Roasted Coriander Seeds
Fenugreek Seeds

Dry Roasted Fenugreek Seeds
Cumin Seeds

Dry Roasted Cumin Seeds
Dried Red Chilies

Dry Roasted Dried Red Chilies
Step 2: Add them to a food processor jar and make it into a fine powder
Step 3: Store it in an air tight jar for up to 3 months.
Step 4: You can use it to make sambar or sambar rice. I use around 3-4 spoons depending on the amount of sambar.
Love,
Po