Kanda (Yam) Chips
Kanda (Yam) Chips
I'm back from my long yet short vacation from India. I wish it was longer, but life beckoned me back. How ever long the vacation is, I always feel like it was the shortest vacation ever to my home. Being married it becomes even more hard as I have to divide my holiday days between my parents and in-laws. Though I enjoy my time at my in-laws home (with all the yummy food MIL makes), it's still hard because I miss mom so much. I miss dad too, but mom and her food more. This time I felt like I have eaten everything my mind and heart wanted to. It's been quite a journey this time since Arlo was a handful and was extremely squiggly in the flight. Even Arlo loved mom's food so much. More than me Arlo has been missing his grandparents a lot. The entire last week he woke up at 4AM searching around for people and then cried. He only went back to sleep after FaceTiming with both sets of grandparents.
This is one of the recipes I lifted off while my mom was cooking. She was so patient and waited for me to take picture for my not so great going blog. She was so proud that I have my own blog that she would wait patiently for me to wake up and then tell me what she's making and if I'm interested to put it up in my blog. My mom is a much better cook than I am and much more patient too. I'm more of a dump everything and cook types, while she takes time in prepping and making. When she told me she was making Kanda fry, I got very excited. Kanda or Yam or Suran is not that hard to make, but requires a bit of patience. Cutting into it gives your hands the itches and makes the rest of the day really uncomfortable. I haven't found the Indian Yam in any of the Indian grocery stores, except in the freezer and they are not fun to cook with. So I was glad mom made this and I got to document her recipe.
Ingredients
Yam or Kanda – 3 cups (diced into square shaped flat pieces)
Oil – 4 tablespoons
Salt – As required
Red Chili Powder – 1 tablespoon
How to Make
Step 1: Keep the diced yam in water until ready to make. Once the pan is heated add the oil. To the oil add the Yam pieces.
Step 2: Keep frying until the yam pieces turn golden brown.
Step 3: Once they are golden brown, remove the pieces into a bowl, add salt and Red Chili Powder and mix it up a bit.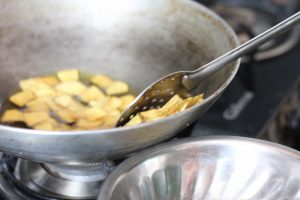 Step 4: Serve it with hot rice and ghee.
Tips:
You can eat it as it is, by adding some chat masala.
You can also serve it as a side with sambar rice, bisibellabath or even pongal.
Po