Tomato Pappu/ Dal
Tomato Pappu/ Dal
I kind of hate pappu that my mom used to make. Every single day there would definitely be pappu on the table. If I asked my mom for Aloo (Potato) Fry or Bendakaya (Okra) Fry, she would say, 'If you eat your pappu.' So my entire childhood I hated pappu with all my heart. But my friends loved it. Their moms didn't make pappu the way my mom made and of course, I loved whatever was in their boxes. Recently I was talking to my friend and she told me how much she loved my mom's tomato pappu and asked for the recipe. I rolled my eyes and told her it's not that hard. She made me promise that I would write up the recipe soon for Jabberfoodwocky.
My mom's recipe is the simplest recipe in her cook book. I love it with a side of aavakaya. Tomato pappu and Bachalikoora (Malabar spinach) pappu are my favorites, after coming to the US. Tomato pappu is the only recipe my husband knows how to make, but it's not the way I make. Pappu is a staple in Brahmin homes. My entire family would probably panic if there was a shortage of kandipappu or Toor Dal. I remember once there was the fear of war and Dal prices were supposed to go up, so everyone bought enough to last an entire year. Most of our pappu's are made with Toor Dal. So here is the recipe to make Tomato pappu, Andhra Brahmin style.
Ingredients
Toor Dal – 1/2 Cup
Tomatoes – 5 medium (chopped into bite sized pieces)
Water – 1 cup
Tamarind paste – 2 teaspoons
Salt – As required
Turmeric – 1/4 teaspoon
Red Chilli Powder – 1 teaspoon
For tempering:
Oil – 1 tablespoon
Channa dal – 1 teaspoon
Urad dal – 1 teaspoon
Jeera – 1/2 teaspoon
Mustard – 1/2 teaspoon
Asafoetida – 1/4 teaspoon
Curry leaves – 3-4
Coriander leaves – 1 tablespoon
How to make
Step 1: Combine the toor dal, tomatoes, and turmeric with water in a pressure cooker. Let it cook for 3 long whistles and let it sit until the pressure escapes.
Step 2: Once it's done, add salt, red chilli powder and the tamarind paste (I squeezed the juice out of tamarind so I got about 2 tablespoons).
Step 3: In the tempering pan, once hot, add the oil. After fifteen seconds, add channa dal and urad dal. Let it fry for a bit, then add the mustard seeds. Once the mustard seeds start spluttering add the jeera and asafoetida. Add the curry leaves before turning off and add it to the dal. Garnish with coriander and serve with roti or rice.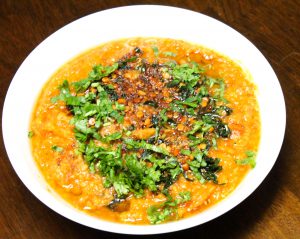 Tips:
You can use lemon juice instead of tamarind. 1 whole lemon should be enough for this recipe.
You can add more tomatoes if you want.
You can skip channa dal in the tempering and use more of urad dal.