Cheesy Corn Toast
Cheesy Corn Toast
I'm the laziest person/ wife on this planet. So I try to find ways to make dinners the easy way. Sometimes I find recipes online and modify them to fit me best to my lazy mind. Usually, I cook once a day and my husband is fine with it. But on Fridays (or when he's working from home the next day), I like to make something fresh for our meal, so I stick with real easy stuff.
I love corn. I look forward to summers so that I can indulge in corn in every way. I drag my dear hubby to the Farmer's market by the river just to buy fresh corn. Now with a baby, it has been extremely difficult to go so far and buy veggies. So I have been stocking my fridge with veggies that I buy locally. And since corn isn't available fresh (I don't like the corn at Walmart or Target that they place on ice), I buy the frozen one.
My husband loves cheese toast and requests cheese toast for breakfast all the time. Being a diabetic, I have to eat a lot of cheese and I try to include it in my diet, though I haven't been that successful for the past few months. MY A1C has been up, so I'm trying to chalk up a new diet plan, and I decided to start with some cheesy toast with lots of cheese. There are a few different versions of the toast that I make, but this is by far my favorite since it's really simple.
Ingredients
Corn – 1 whole pack of Bird's Eye frozen Corn or 1 cup
Cheese – ½ pack of Pepper Jack Cheese (~100gms) and ½ pack of Mozzarella Cheese (~100gms) or 2 cups of Cheese
Spices:
Salt – ½ teaspoon
Pepper – ¼ teaspoon
Crushed Red Chilli Flakes – 1 teaspoon
Paprika – ½ teaspoon
Italian dry herbs – ½ teaspoon
Coriander Powder – ½ teaspoon
Dry Mango Powder – a pinch
Bread – 6 slices
Butter – 1 tablespoon
How to make
Step 1: Preheat your oven to 350F. Take a bake tray and cover it with aluminium foil, or a baking paper. Spray the tray with cooking oil (preferably something that doesn't have a strong smell)
Step 2: Follow the instructions on the bag of the frozen corn to cook it. It says 6 minutes, but I usually only microwave it for about 3 minutes as it cooks while toasting too. If you aren't using the plastic bowl, you can pressure cooker for 1 whistle, but that would make this recipe really long. So, microwave the corn in a bowl with some water for 2 minutes. Once done, drain away the excess water in a colander.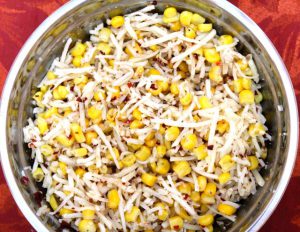 Step 3: Take the cheeses and corn in a bowl. You can use only one kind of cheese. I use the Pepper Jack cheese because I like the spiciness that comes with it. Mozzarella is the preferred cheese for this toast but any kind can be used (American, Colby, or Cheddar). Add the list of spices to the cheese and corn and give it a good mix with the spoon.
Step 4: Take a slice of bread and spread some butter (as much as you like). Place a decent amount of the cheese corn mixture on it and place it on the tray. I do 4 at a time as I have a smaller tray, but you can put in more if you have a bigger one. Place the tray in the oven for 10-12 minutes.
Step 5: After 10 minutes (make sure the cheese is melted) serve the toast immediately with Maggi Hot and Sweet Tomato Sauce.
To Make This Recipe Better
This toast is to be eaten hot, as it gets soggy after some time. I still haven't found a way to prevent the sogginess so suggestions are welcome.
Any herbs can be used. You can use fresh basil, fresh oregano, fresh parsley and fresh cilantro in light quantities.
You can increase the amount of chilli flakes used. I have used more than a teaspoon as we love it spicy.
Po