Aratikaya (Plantain) Mudda Koora
Aratikaya (Plantain) Mudda Koora
Indian veggies aren't available at Walmart or Target. When I mean Indian veggies I mean bhindi (okra), lauki (bottlegourd squash), dondakaya (Ivy gourd), Aratikaya (plantain), munnagakaya (drumstick) or chaamadumpa (colocasia). Sometimes I find okra and getting so excited but it's not the same kind as we get in the Indian store. Even the brinjal or eggplants aren't available (the thin tall ones, the little ones, the green ones, the small thin tall ones). So we have to go to multiple stores sometimes to get all the groceries we need. Most of the time we skip Walmart or Target and just get tomatoes and onions at the Indian store. But I've noticed that those are cheaper at Walmart or Target so those are back on our list. Though sometimes you find plantains at Walmart, you can use those, but those are different from the ones you get in the Indian store.
Plantain is an amazing veggie that's cooked in so many ways throughout India. It's technically raw banana. Aratipandu is banana and Aratikaya is raw banana. Pandu is fruit or that's ripened and kaya is raw or rather before ripening. You'll be surprised at the number of veggies that can be used this way in Indian cooking. Mango when raw it's used in pappu and pachadi and when it ripe it's eaten as a fruit and used in desserts. Ivy gourd too, before it ripens you can use it in fry, koora and when it ripens you can make it into a Pachadi. We used to love Aratikaya vepudu (plantain fry) in our childhood so much. It was our favorite. Sometimes mom added onions, but most of the time she didn't. I don't know what this is originally called, I think I can also be called Aratikaya pulusu koora but I'm not sure. The ingredients are your regular available ones, so it's not hard to make.
Ingredients
Aratikaya – 4 (small ones)
Chintapandu paste (Tamarind paste) – 1/3 cup (watered down)
Bellam (Jaggery) – half of 1/3 cup
Salt – 1 tablespoon (as needed)
Turmeric – 1/4 teaspoon
Red chili powder – 1 tablespoon (as required)
Oil – 4 tablespoons
Sengapappu (Channa Dal) – 3 tablespoons
Minapappu (Urad Dal) – 3 tablespoons
Aavalu (Mustard Seeds) – 1 tablespoon
Jeelakarra (Cumin Seeds) – 1 tablespoon
Inguva (Asafoetida) – 1/4 teaspoon
Karepaku (Curry Leaves) – 5-6 leaves
Green chilies – 4 (optional)
Water – 1.5 cups
How To Make
Step 1: Chop the plantain into small pieces and keep them in water.
Step 2: In a pan with a lid, add oil. Once hot, add channa dal, urad dal and fry them until they start to change color. Then add mustard and asafoetida. Once the mustard start spluttering add the cumin. Now add the curry leaves (and green chilies if using).
Step 3: Fry the curry leaves for a few seconds and add the chopped Aratikaya. Mix it well.
Step 4: Add tamarind paste, jaggery and water and mix it well. Put the lid on.
Step 5: Keep stirring every 5 minutes. If more water is needed for the plantain to cook add it. Add salt, turmeric mix it well, put the lid back on.
Step 6: Once the plantain is cooked everything sort of becomes a mudda (like a ball).
Step 7: Add the red chili powder, and garnish with coriander (optional) and mix it well.
Step 8: Serve with rice and ghee.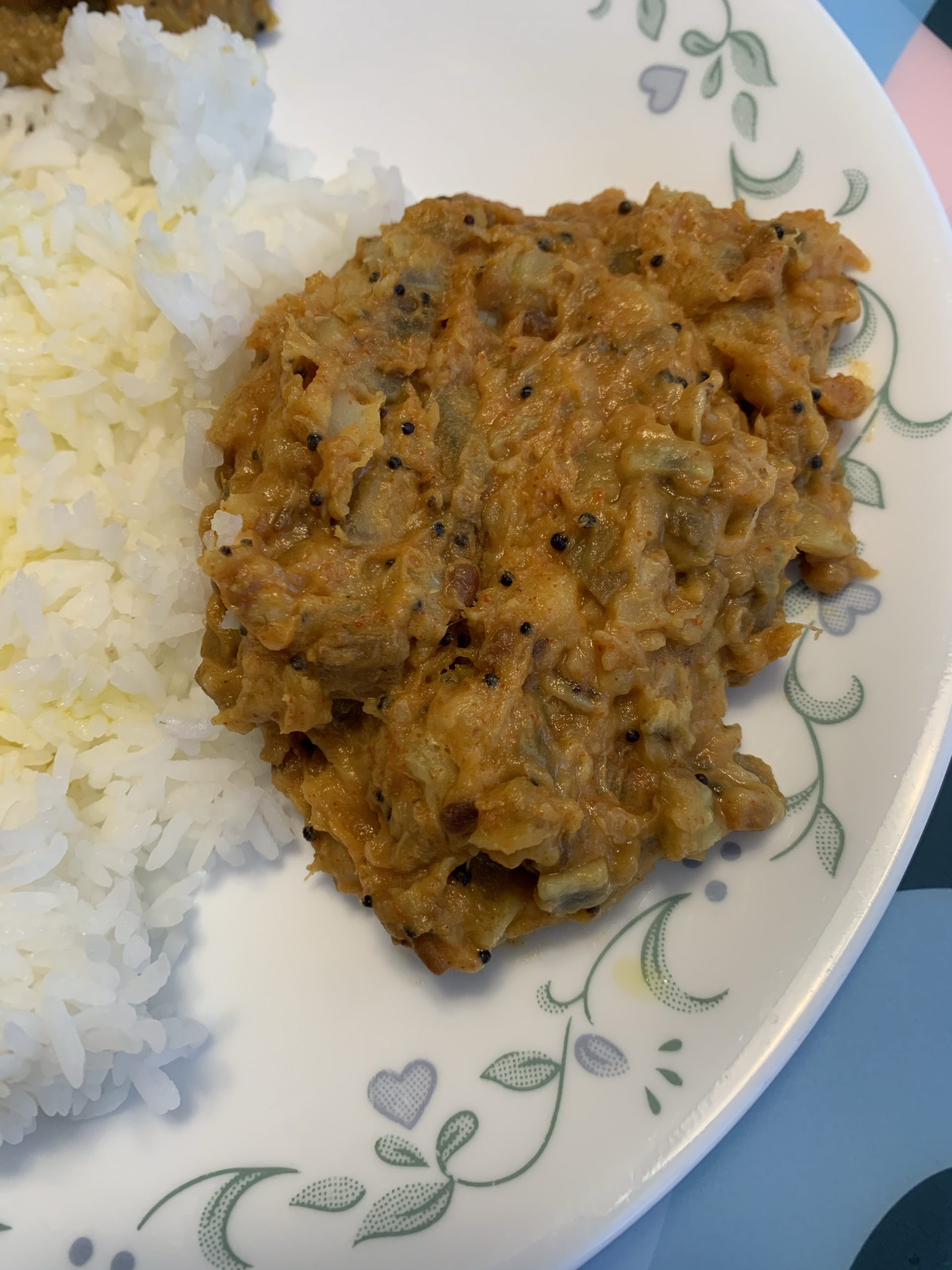 Tips:
1: You can half the plantains, and pressure cooker them for 1 whistle (or in instant pot for 4 minutes). Then peel the skin off, mash them or chop them, add them to the tempering, add tamarind and jaggery with no water and mix it well. Then add spices. This method is slower since you have to wait for the coolers to cool down.
2: If you don't have jaggery you can use sugar, BUT, sugar isn't healthy. Jaggery has a lot of health benefits (or my mom keeps telling me this).
3: This recipe is awesome and delicious. It's sweet, tangy, spicy and tastes weird because of the plantain, but overall it's become a favorite with us.
♥️ Mahi