Traveling During the Pandemic
Traveling During the Pandemic
Traveling is super stressful especially with a toddler, counting in international travel and also layovers and changing 3 airplanes. We are one of the thousands who are stuck in India who are waiting to return to their homes. It's true that our home is here in India, but it's also there. The journey to India was stressful but also the return has been double stressful with the Corona Virus spreading around an alarming rate. As soon as they opened the special evacuation flights VJ and his brother booked the flight tickets back home. We got tickets from Delhi to Chicago, and Hyderabad to Delhi only 4 days before the actual flight.
Hyderabad to Delhi – Tuesday at 12.30PM IST
Delhi to Chicago – Wednesday at 2.30 AM IST
We were asked to come to the airport 4 hours before the actual flight. Arriving was easy. Roads were not congested, VJs uncle was very kind and arranged us transportation to the airport. But we had approximately 14 suitcases and 3 backpacks. We knew it was going to be crazy and with Arlo just borderline insane. As soon as we reached there were a lot of people already in line. There were no porters, no trolleys and no help at the airport. After the requesting the security they released trolleys to keep our luggage in. It was extremely hot outside. It was 44C and the shade wasn't helping a bit, by the time we were inside we were drenched in sweat. Thankfully the AC at the counters was working and had the chance to cool off a little. The ticket processing was extremely slow. They checked our temperature twice, gave us multiple forms to fill took a few of them and then security was easy.
We carried several food items – butter noodles (just pasta with butter) and idli with mild podi for Arlo, idli with garlic podi for the adults and a bucket load of snacks. It wasn't easy carrying so much but thankfully between the 4 of us we managed easily. We also carried our own water bottles, the water fountain had a touch free sensor that we used to refill our bottles. After having the first meal, we waited at the gate to be boarded. No one was following social distancing or following the mask rule. Masks were present but laid absent. Kudos to the RGIA (Rajiv Gandhi International Airport at Hyderabad) staff for maintaining a clean facility and the bathrooms were sanitized after each person.
Once boarding started there was no social distancing despite the staff asking for it. Once they checked our boarding passes, we were given a shield, mask and a bunch of sanitizers. The entire crew on the flight had PPE on. Food was placed in boxes on every seat. Wasn't expecting food on the domestic one, which was an added bonus. I sanitized the trays and hand rests. They've announced that the crew will be at minimum. The sandwiches were actually nice, the slice of cake wasn't too sweet, the juice was refreshing, 2 water bottles were enough for the trip, the butter cookies and peanuts were a good snack. There was a lot of turbulence just before landing and Arlo didn't like it at all. He wouldn't even sit in his seat and it got very difficult from there to manage him. But there was a lot of space for our legs and didn't feel congested at all.
After landing in Delhi, we had to repeat health screening, they made us sit on chairs that were social distanced, but made no sense since we had to move and sit on the same chairs as others sat on. Then there was a security check, after which we were just ignored. No one guided us to a gate, or was it mentioned it on our tickets, we randomly sat at a gate where it was a little less crowded. We scavenged for some food, as ours ran out (except for the Butter Noodles), except they Cafe Coffee Day nothing else was open. Cafe Coffee Day was stocked with sandwiches, burgers, muffins, brownies, croissants and lots of coffee. The burger wasn't half sad and bad as it looks. The sandwich was bad and Arlo gulped down the croissant so I guess it wasn't bad.
Sitting at the airport for about 10 hours is extremely hard. Despite downloading lots of Peppa Pig, it wasn't enough to keep Arlo entertained. He didn't want his usual games, it was good that there were 4 of us, he wanted to run around and one of us took turns. At around 10.30 we heard our gate is at 1, we weren't sure but at around 11 we moved close to Gate 1, bad move on our part since there was no place to sit near the gate. I changed Arlo into pajamas, brushed his teeth and got him ready for sleep but he didn't want to since there was no bed. We brushed our teeth since we wouldn't get a chance until we reach Chicago. By the time it was midnight we were exhausted but Arlo wasn't.
The sandwiches weren't very filling and we were hungry again. The hospitality of Air India is appreciated. They provided free fresh super hot meals for everyone at the gate. They had Dal Chawal, a fresh bun, butter, salad, yogurt and a side of pickle with a piece of cake. Even though it was midnight everyone at the gate enjoyed the rice and dal. Can't thank Air India enough for that. There was another security check at the gate, and we were given shields (see pic) and masks again. The flight was a few minutes late, but as soon as our butts touched the seat we were fast asleep. As mentioned there was a lot of foot space and also a feet rest which was extremely helpful. The foot packets were already placed on the seat with a separate snacks bag. The food went bad after 6 hours. But we were glad for the ton of snacks that were given. Every snack was Made in India and made me miss home even more. We didn't see the air hostesses again after taking off. No one came to fill the toilet paper in the bathroom or make sure that everyone was doing okay. Multiple times saw people press the call button but no one responded.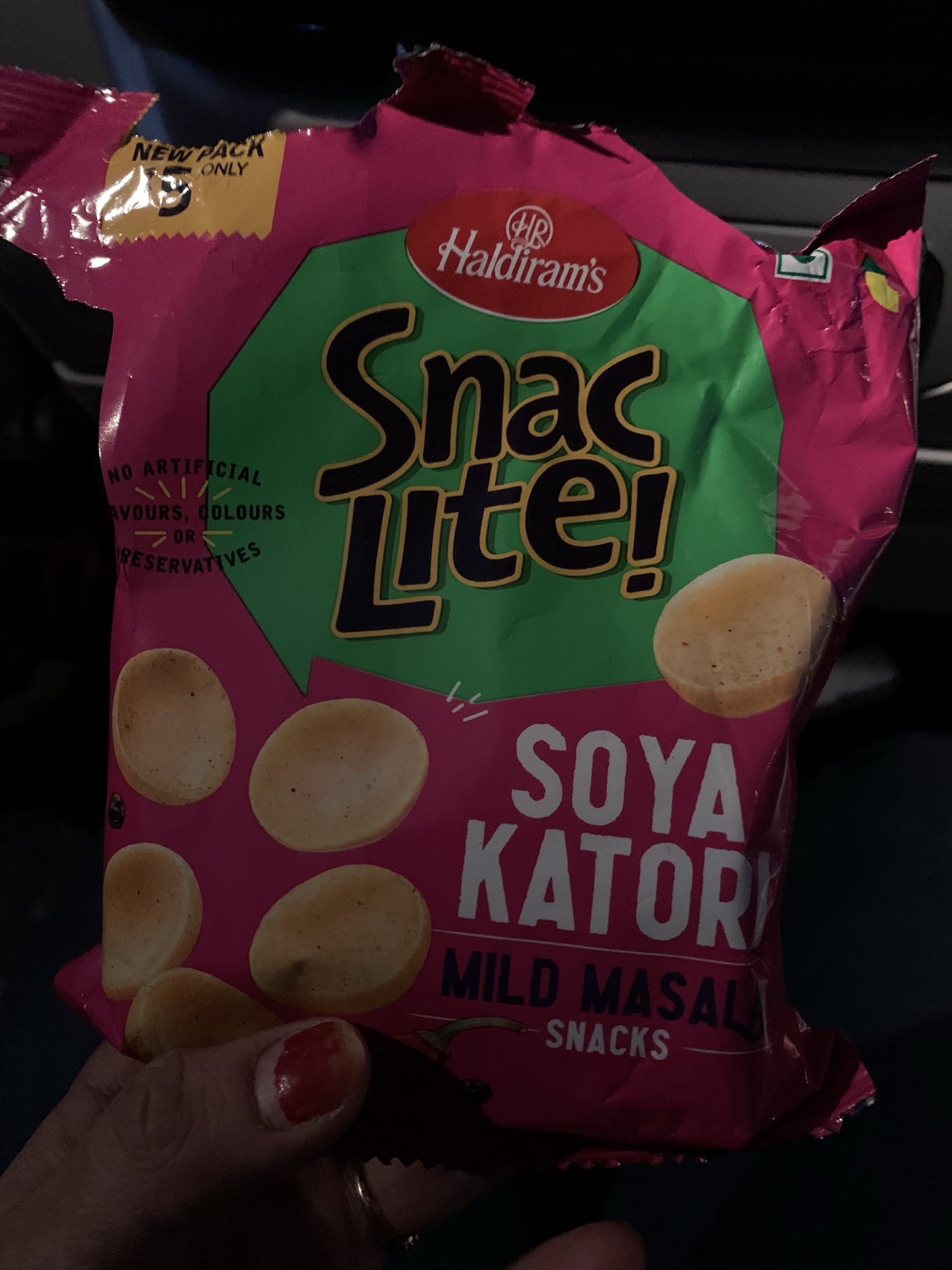 Once the flight landed, despite repeated requests no one sat in their seat or followed social distancing guidelines. Everyone was too exhausted at that point just wanted to get home. Immigration and Customs wasn't too long, but did take some time. This was the only flight that landed, entire Chicago airport looked empty and sad. We exited almost immediately, sat near the exit. After freshing up a little VJ and his brother went to get our rental cars while we waited. We brushed and changed into our back up pair and were at the ready for them to be back.
A few things I wished I had done:
1. Packed less carry on stuff – it was just too heavy!
2. More food instead of more snacks – the snacks were left untouched by us adults
3. More sanitizer – I ran out of 3 bottles of sanitizer
4. More wipes – I must have wiped every surface, but still felt I haven't wiped down enough
With so much to worry about I'm glad my flight was smooth as it could have been. Kudos to Air India staff for making us reach our homes. It wasn't a bad experience, just was stressful and a hungry trip. But the trip hasn't ended yet, we are still to reach home, a few more hours on the road and we should be home.
Update – We reached home at 8.30PM CST, safe but extremely exhausted.
♥️ Mahi