Ammamma Chaaru
Ammamma Chaaru
I've already written this way too long post about the podi process to make it. So I'm not going to go on another lengthy post about it. But yeah my love for chaaru is obvious. For me, without chaaru a meal isn't complete, but after moving to the US I've made less and less of it. For Arlo, I've started making more and more, but sometimes I'm the only one who eats. Arlo only eats the cherry tomatoes that I make for him and doesn't much care (for now) for the rest. Sometimes when anyone at home is down with a cold, I make this with extra peppers to soothe the throat. During the cold months, I try to make this as much as possible as it's so simple to make. With the powder ready to use, I make it before the Instapot beeps that rice is ready.
Mom does every step with care and patience, but I just dump everything and do it at once. Mom thinks that smart, but I feel that that is the reason why mom's chaaru is much better than mine. The amazing aromas that come when mom adds tempering at the end, is just amazing. Remembering it makes me miss mom so much. I love this recipe so much that I forced my mother-in-law to make it too at her home. I made a big batch of the powder for her to use. I didn't want to use the readymade powders for Arlo yet, so when I was visiting India and when the powder wasn't there at my in-laws home, I made some. My mother-in-law definitely likes the way I make sambar, but I'm not sure about this chaaru. So here's how to make chaaru from the podi.
Ingredients
Tomato – 1 whole diced
Curry leaves – 4 or 5 leaves
Jaggery – 2 tablespoons
Tamarind paste – 1/4 cup (I take a golf ball sized tamarind and squeeze the juice out of it)
Turmeric – 1/2 spoon
Chaaru Podi – 3 tablespoons
Salt – as required
Oil or Ghee – 2 teaspoons
Mustard Seeds – 1 teaspoon
Asafoetida – 1/2 teaspoon
Cumin Seeds – 1 teaspoon
Water – as required
Coriander leaves – 3 tablespoons (for garnish)
How to make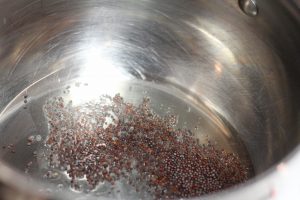 Step 1: In a huge vessel (I usually use steel rather than non-stick), once heated add some ghee or oil. Add mustard seeds and asafoetida immediately and do not let the oil or ghee sit for too long. Once the mustard seeds start spluttering add the cumin seeds.
Step 2: Once the cumin seeds start spluttering add the curry leaves (I chopped the curry leaves but that is not necessary) and the tomatoes. Keep stirring the tomatoes and do not let it burn. Once the tomatoes are half cooked, add 2 cups of water.
Step 3: Now to the water, add turmeric, salt, tamarind, jaggery and the chaaru podi. Mix it up a bit and leave it on medium heat.
Step 4: Once it starts to boil add more water, mix it a bit and bring it for a second boil.
Step 5: Add the coriander leaves and serve with rice.
Tips:
You can add drumstick instead of tomatoes, or use both together.
You can adjust the amount of tamarind and jaggery based on your tastes. Most of my house prefers tangy chaaru so I use more of tamarind.
Mom usually dumps all the ingredients lets it boil 2 or 3 times and then adds the tempering to the boiled chaaru.
You can use cherry tomatoes which makes this tangier which Arlo really loves.
Po