Sonul Mahendra's Ordinary To Extraordinary
Sonul Mahendra's Ordinary To Extraordinary
Foreword from Po


In 2016 I had the honor of becoming a mom. Being a mom was everything to me. I love babies, always had. Recently my dear sister reminded me how naughty Arlo is and I told her I wouldn't have it any other way. He recently turned 20 months and whenever I sing Happy Birthday he keeps asking for cake. It makes me smile so much. Every time I hold him to put him to sleep, I smile a little and thank the stars for the beautiful and handsome baby boy in my arms. But I was so lost when he was born. Of course, my mom was right there beside me guiding me through every step, but sometimes she couldn't say the right words – the words that I needed to hear. Then a friend put me in the group. I learned some and so much more. The Brown Mommies Unite Facebook group has been both a boon and a curse in my life. A boon because of the advice that I get. There are so many experienced mothers there, they help you and guide you. And then a curse because it's just impossible to miss some negative thoughts that are thrown your way and also of the so much bad in world.
I don't know how Sonul does it. To me, she is one of the bravest women in the entire world. Her job is not just to give us advice but to moderate over seventy thousand mommies. Whenever I feel depressed I go to BMU where a couple of mommies are always there to cheer me up. I don't even have to post most days. I am certain somedays most moms feel the same way as I do. Sonul is like a Mother Goose to all the other Goose helping them out whenever needed. She gives us all the hope that some days I lose. I don't know how Sonul does it. I think I even had a mild case of postpartum depression and can't see the happiness all in one place. For a woman who does it all, for a woman who's amazing, for a woman who's kind, for a woman who's gentle – this woman – SONUL MAHENDRA is the PERSON OF THE YEAR. Thank you, momma, for this amazing group, without it I would be a little lost and more depressed. THANK YOU from the deepest bottom of my heart. 
SONUL MAHENDRA
Full Name –Sonul Mahendra

Education –Michigan State University, BA Elementary Education, MA Curriculum & Teaching

Day Job –Stay at Home Mom

I was lost when I started out as a mother, if I hadn't found BMU I would have probably gone insane. How was it when you were a mom the first time? Is that what made you start Brown Mommies United?

When my son Vishan was born in 2012 I was extremely clueless. I luckily had the help of my mom full time. My inlaws were instrumental as well with much great advice. I would get confused often between what my parents would advise and what I would read from other moms. I needed a place to go and ask other first-generation South Asian moms questions about raising my baby. I needed a place to share. That's when Brown Mommies Unite started. I got on Facebook, clicked Start Group and invited 40 of my personal Mom girlfriends to the group. It snowballed from there and 6 years later is a global mother's support group with over 71,000 members.
How was it in the starting days for BMU?

It was so very easy. When the group was small it was such a seamless machine, moms helping moms, everyone sharing openly and just pure comradery of motherhood. It was only an US-based group at that time. Now BMU reaches India, UAE, Europe, Australia etc
What are some of the obstacles you face while managing such a huge group?

Obviously, with such a large group there are obstacles. Off topic posts and spam seem to be the hardest to tackle. Members often times won't read through the rules and procedures of the group and very off topic and non child & non motherhood inquiries are posted. Spam is always an issue as well. Many people will join large groups solely to advertise their business without seeking permission to post. Luckily I have a small group of veteran members who report off topic and inappropriate posts to me. I don't think I could run the group without those sweet ladies.
I'm sure you have to spend a major amount of time on the group, moderating it and also deleting unnecessary posts (I know I did quite a few). How supportive was your family with everything?

My entire family is so incredibly supportive. BMU is my way to give back to the community. If I can help a mom, I will! On Mondays and Thursdays, I post anonymous inquiries for mothers who need help with hypersensitive situations. It's my goal to help these moms who feel helpless. I received much help with my babies via the group and I am forever grateful. My husband knows I need time for BMU daily. Vishan also knows mommy runs a large group that helps other kids and moms. My parents and siblings are always proud and rave about the group. BMU has become part of my heart.
Does your oldest know what you do? What does he think you do?

Haha yes, Vishan knows I help other Mommies. Often times if I'm on my phone for a longer time than normal he will ask "Mama are you on Brown Mommies?" Then he will ask if someone is sick or if a new baby was born or if I'm asking questions about Mavvin's reflux (our baby.) Vishan knows exactly what I do. He will say "My Mom is the boss of a gigantic group on Facebook." I love that he knows I'm helping others and giving back. He knows how important it is to me. He also knows how much BMU has helped me when he was a baby and now with Mavvin.
I know you are a self-made woman, I know that you have your start-up and also your Instagram on your motherhood journey. Can you tell us a bit about that? And how do you manage?

I actually closed my startup Perfectly by Sonul when I was 6 months pregnant. I had a high-risk pregnancy and needed to take it easy. I love crafting while I was running my business and it was great fun. I am a Kindergarten teacher and missed that part of creativity in my life so my business fulfilled that void for me. My Instagram personal blog is very easy. It's just my life- from my pregnancy to my VBAC, to Mavvin's health issues and now the circus of being a stay at home mom. Some days are hard to post or contribute but I manage to get to it during naps and at night. This is all very temporary, the kids are growing up so fast, so I'm trying to enjoy it while I can!
Who inspires you the most in your everyday life?

My Mom. I know it may sounds cliche but she is so strong. My family and I grew up with very little. She managed to make many many incredible memories for us. She is a phenomenal cook and is so happy and giggly and bubbly. She would make incredible meals of all different cuisines for us. She would surprise us with cute gifts & love us in a way I can't explain. She's just a gem. She adores her grandkids and will drop everything and come running anytime I'm in need. She had such a bond with Vishan- it's hard to put into words. I pray I'm half the woman she is. My other inspiration is definitely my mother in law. She is just such a gorgeous person inside & out! She is the glue of my husband's big Punjabi family. She keeps in touch so lovingly with each and every one of us personally, she adores her grand babies, she treats me like her daughter. I hope I can continue in her footsteps to keep the family happy & close knit. She is one of the most selfless, fair, & intelligent persons I have ever encountered.

Alongside my amazing mothers are other moms I see rocking this insane journey of motherhood. We share so much on BMU that the ladies there have found others to connect with and to inspire one another. Moms who keep it real, post real photos, and share real emotion inspire me.

Where do you see yourself 10 years from now? Do you think this is the place you thought you would be 10 years ago?

I try not to think about things too far into the future. I try to live in the now and try to savor memories in my mind as much as I can. Hypothetically I see myself back in education, possibly doing admin work with curriculum. When I left my job as a teacher I was also teaching teachers new concepts and I really enjoyed it. I also may try some new endeavors that are available in Chicago which I may never get the chance to do again. I honestly have no idea what the next decade has in store. I never thought I would be raising my sons in the fabulous city of Chicago 10 years ago. So you just never know!
How do you deal with all the negativity that comes from a few moms? And when there are bullies? How do you stop them?

Ahh yes, he passionate moms who don't hold back and sometimes rub others the wrong way. I really try to see everyone's perspective on situations when things get sour. Moderating the group for all these years has really helped me put myself in others' shoes. If the negativity is blatantly harsh and there's direct bullying taking place I have no issues removing members from the group. I usually message them and let them know they are out of line or hurtful. Mothers are very very emotional as this is the hardest job in this work. Tensions do rise and disagreements happen often but it's really great that they usually smooth themselves out. But on the contrary, I have no problem stepping in the middle of hostility and taking the reins to keep the integrity of the group rich. BMU is a safe haven for many moms. I have to run a very tight ship to keep it running smoothly.
Your simple idea to have a group has rippled and has touched so many lives. When I see some of the posts it makes me angry and then some make me double down with laughter, are you planning to have more groups in the future?

The reality that we feel when we read such raw and real emotions and situations moms face day to day can really pull at the heartstrings. BMU has become a group that has exceeded all my expectations when I started it. It has humbled me into a more grateful person and it's helped many moms all over the world. I'm very proud of the group but others don't see is that it's the community of women that make the group what it is, not me. I'm just moderating and posting on behalf of moms. It's the members and their compassionate and wish to help another mother that makes BMU what it is. Yes I did bring us all together but BMU is nothing without its members. I have no plans to create further groups. I hope BMU goes on to help mothers and be a place for moms to share for many years to come.

Thank you for interviewing me. I'm really no more special than any other mother. We all have the same desires for our children and we all lead with our hearts.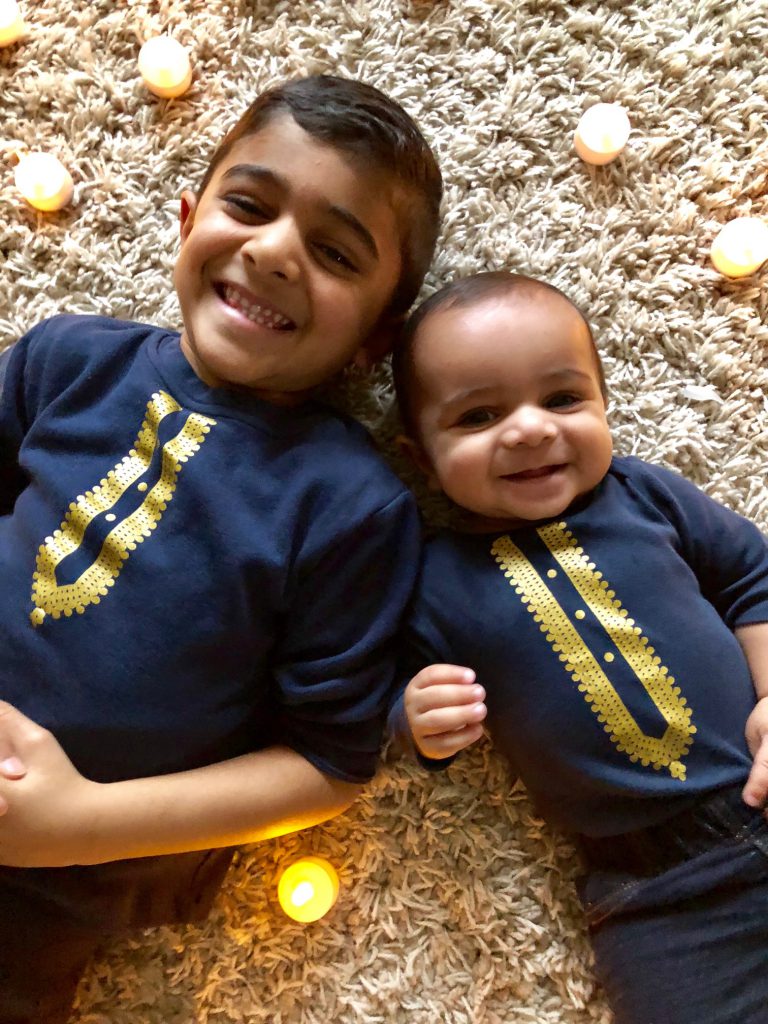 Thank you Sonul for dedicating your time for us. We appreciate your honest replies and giving us your answers with your little bundle of joy. You are a true inspiration to many women to do what they love, help so many others. I cannot do what you have been doing for the past few years. It's a real honor to know you and to interview you. We wish you nothing but the best. I hope you help many more mothers and continue doing it till the end of time.
I've recently seen the impact of these mothers that Sonul has brought together. A beautiful baby girl Kyra fell sick, and the every mom came together to pray and hope that the little girl would be okay and recover. That amount of support and the mom received was incredible. There are moms lined up to give the family fresh food three times a day. Kyra is now in recovery but hats-off to every mom for coming together to help this incredibly brave mom. I don't know how I would have survived without BMU, I'm sure there are other mommy groups, but BMU is the first thing that I go to.  
I wish we had another way of honoring you than just with a title. For now all we can do is say in bold that you are THE PERSON OF THE YEAR. Maybe in the years to come we will be able to do something more. Being a mother is hard enough, helping seventy thousand mother's while having a six month old and a six-year old – is near impossible. Thank you for doing the impossible. Thank you for encouraging, guiding and helping so many mommas. Thank you for the time you dedicate to other moms. Thank you for your time on Facebook. Thank you for the group. Thank you for everything you do Sonul. You are amazing.
We have nothing but best wishes for you Sonul!


From team Jabberfoodwocky, we wish you Happy Holidays and a Happy New Year!
Love,
Pooh & Po