Shilpa's Ordinary To Extraordinary
Shilpa's Ordinary To Extraordinary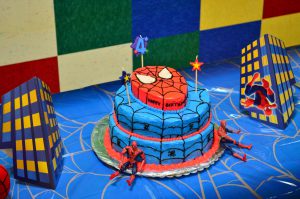 Where can I start about Shilpa – a mom, a sister, a friend, a wife, a daughter and a daugther-in-law. She fulfills all these roles with such ease it makes me wonder how can a woman do everything! When I first met her, I was suffering from infertility and would cry every day. Her kids, I and A were a constant source of sunshine for me. I would invite myself to her place and spend my afternoons with them. It was the best days of my life back then. When I needed to cry she has always been there, sending me amazing food to ease my hurting soul. She was the only one who gave me hope when I had none. Shilpa is my older sister that I never had. She's suddenly become my best friend when Pooh was absent from my life (mainly the long distance). She would feed me whenever I missed mom and everything was just so warm and excellent.
Shilpa's cakes are tasty, if Pooh could taste them, she would understand why I made Shilpa my best friend. The cake Shilpa baked for my baby shower was the best and out of the world. I cried for days when my sister took the last piece (poor thing didn't know). I was mad at her for weeks to come. Her chocolate cake, her eggless cakes, her bonda soup, her dal amti, basically anything cooked by her is delicious! I don't know how she finds time to update recipes on her website while dropping kids to school, picking them up, taking them to different activities, cooking, cleaning and on top of that having a day job. Her website Aayi's Recipes has over ten thousand followers on Facebook and she deserves more than that. If Shilpa's cooking is out of this world, her Aayi's is out of this universe. I guess all moms have that magic touch. Having never eaten Konkani food, I was instantly transported to the coastal towns with their scrumptious food.
The inspiration I get from the women in my life is massive. My mom, my sister, my late grandmom, Pooh and Shilpa. When I have exhausted one person and sucked out all the inspiration from them, I turn to the next person, but amazingly they regenerate back their inspiration for me. Shilpa proved it to me that no matter what you are doing, no matter where you are, no matter what your day job is – if you set your goals and your mind to what you love, it will be successful. Her page has over ten thousand likes and followers. I cannot thank Shilpa enough for being there for my family and me. So here are our words from September's Ordinary To Extraordinary.
SHILPA
Real Life Job – Software Engineer
Website – http://www.aayisrecipes.com/
First dish ever made – Tea
What made you to start your own food blog? Were you always interested or was it after you moved away from home that the interest deepened?
I always wanted to save my Aayi's recipes somewhere. My husband V thought I should save them as a blog, so he started Aayi's Recipes for me. I started cooking during my college days when I lived in a hostel. My love for cooking only increased as the days passed.
How was it in the starting?
My goal was to save my aayi's recipes that we loved so much. During those days, there were only a handful of food blogs. There was a lot of interaction between bloggers. I never expected so many people to read it. There were only a few other Konkani food bloggers, who stopped blogging after a while. I made many good friends, both bloggers, and my readers during that time.
What are some of the obstacles that you had to face? And how did you deal with any negative comments that came your way?
There were a few cases when I got negative comments. Mostly they were about a particular recipe and people would get quite aggressive. Initially, I would get discouraged. But the percentage of negativity was so minimal compared to the positive feedback I got. Eventually, I learned to ignore them and move on.
I know your family is super supportive. If you were to quit your job and take up cooking as a full-time job, would your family support you with it?
Yes, definitely. My family has been very supportive when it comes to the blog.
How do I and A (your kids) react to your blog? Do they give you ideas?
I knows I have a blog, I don't discuss too much about the blog with them. They know that I take pictures and share. I don't think A understands it yet. They both love to help the in kitchen. I used to come up with his own recipes – like mixing pickle with ghee and calling it a dish. It's very cute. 
How do you balance both work and your blog? Do you have plans on expanding your blog?
It has become extremely hard to keep up with blogging. I don't spend as much time as I used to before. At this point, my priority is kids and their activities and our fulltime jobs. I don't want to give up on the blog because that is something that I love very much. I want to be realistic, so I think I won't be able to expand the blog as of now. Maybe after a couple of years, when the kids are older, I can get back to blogging.
Who inspires you the most in your everyday life?
My parents. I have seen them as hard working individuals throughout their life. Even now they do so much. They are a constant source of inspiration for me. Then it is my husband, who is very supportive about my job and my hobbies.
Where do you see yourself 10 years from now? Do you think this is the place you thought you would be 10 years ago?
I honestly don't know at this point. I want to be a complete tennis mom and also want to do something about my blog.
10 years ago, I did not think my blog would reach out to so many people. But eventually, when it did, I thought I would make it much bigger. But then I had kids and my focus completely shifted.
What would you tell to those who cannot cook at all? And how they can help themselves?
Cooking is a life skill. Try with something very simple. Every dish doesn't have to be fancy. But everyone should know basic cooking so that they can feed themselves and don't have to depend on others.
Do you think without Aayi's Recipes you would be happy?
I don't associate happiness with just one thing. Aayi's Recipes is a huge part of my life and gave me an identity. I am incredibly happy I did it. I love it when my parents hear about the blog from people and they feel so proud. It has given so much to me and my family.
But I have so many other things that I am grateful for in my life. So I am sure I would be happy even if it wasn't there.
The happiness Shilpa gets when she feeds us is so pure and makes me smile every single time. The care packages she sends for my whole family when I am sick, makes me feel instantly better. Her kids I and A are Arlo's best buddies. He loves them and adores them. I love both of them for providing me with sunshine when I was in darkness.
We wish you all the very best for your future endeavors!
Love,
Pooh & Po!