Veggie Fajitas
Veggie Fajitas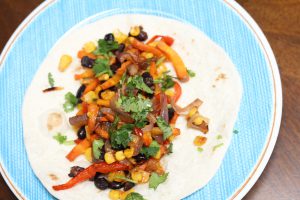 As per my previous posts, you guys must have figured out that I've been trying so very hard to cook really healthy. VJ doesn't have many complaints and usually just eats, but then he doesn't even compliment me much. I just keep cooking and hoping that the food that I cooked is delicious. It usually is, but I do have my moments when sometimes I fail. My sister is the one who complains. Even when my dish is absolutely delicious she finds the slightest fault with it and it helps me better my recipe next time. So I have to satisfy both of them, which is incredibly difficult. The past few days both VJ and my sister have been at home, and we got absolutely nothing done. VJ even cooked for me and it was really good. It was good to have someone else cook for a change, without the food turning out horrible. VJ isn't that great of a cook and can follow directions. Despite having a slight mishap the food turned out really good.
So today is the last day of the holidays and it's back to work, so I decided to finish up the veggies this week in the fridge before I venture out and fill it up again. At first, I wanted to make pasta, which VJ doesn't like that much, then I thought let me make soup, but I made it for the Christmas gettogether at my friends' place so I decided to make roasted veggies. A few days ago I made these when my BIL was there too and everyone loved it and though I made extra it was done within minutes. When I have no leftovers it makes me incredibly happy. I love that there's no food leftover – which means the food was extremely good. So today with the fajitas I also made Enchiladas. I thought VJ needed encouragement for helping me out one day in the kitchen, so I promised him I'll give him easy recipes on my website. So here's how you make fajitas.
Ingredients
Carrots – 1 long (chopped any way you want, I did long)
Red Bell Pepper – 1 big or 2 small (chopped similar to the carrots)
Onions – 1 large (chopped similar to the carrots)
Corn – 2 cups
Black Beans – 1 can (I washed them before using)
Garlic powder – 1 tablespoon
Salt – 1 teaspoon
Onion powder – 1 teaspoon
Paprika – 1 tablespoon
Oil – 2 tablespoon
Lime – 1
Cilantro – 1/4 cup
How to Make
Step 1: Preheat the oven to 400. On a tray lay parchment paper and keep it aside.
Step 2: Chop the carrots, bell peppers, onions and combine it with the corn and black beans in a huge mixing bowl.
Step 3: Add the garlic powder, paprika, onion powder and salt and give the veggies a good mix. Throw all the veggies on the parchment paper. Add one tablespoon of oil over the veggies (I used canola oil spray).
Step 4: Roast the veggies for 25 minutes, take the tray out, give it a quick mix, add the other tablespoon of oil and put it back in the oven for another 20 minutes.
Step 5: Take it out, mix it up again, serve it over tortillas. Garnish it with lime and cilantro.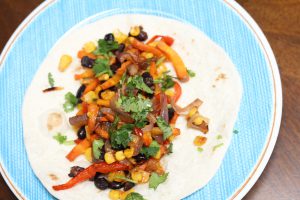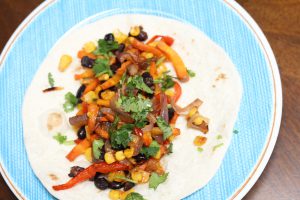 Tips:
You can add mushrooms, zucchini and skip the black beans and corn.
Po