Gummadikaya Pulusukoora (Pumpkin Gravy Curry)
Gummadikaya Pulusukoora (Pumpkin Gravy Curry)
I know I've been telling about how I've been talking about eating healthy, but we do eat rice now and then. Someone who grew up in the Southern part of India, it is incredibly hard to give up rice despite me being diabetic and all. In fact, my parents' endocrinologist told them that it's okay to eat rice. They know the secret – we can never give up rice. So today we had to step out for an hour and I had to make something quick. So my mind understood that as, 'what she really meant is, something that will eat away her time'. Now I was determined to cook that small piece of pumpkin that I got at the Indian store over the weekend. There was nothing much left in the fridge except tomatoes and carrots. With Arlo crazily clingy to me, I decided to go with the pumpkin.
For some reason, my mom never made much pumpkin when we were kids, probably because we hated it and called her out for making something so disgusting. Yep you heard it right, and I cannot understand Americans obsession with Pumpkin. THEY PUT IT IN THEIR COFFEE!!! Why???!!! Anyway, without more hate dragged towards me, I'm going to say it – Pumpkin has a weird smell and should never be used as a dessert or in coffee. Anyway, I decided it should be part of the diet. It is a healthy vegetable. Is pumpkin even a vegetable? The only time I remember liking pumpkin is eating Gummadikaya Sambar at Pooh's place. It was so delicious that I wanted to eat only that. To be frank, whenever Pooh brought in her sambar for lunch I ate it up (Sometimes without her permission). I made this recipe a few weeks ago, and everyone liked it, I made some small changes and made it better, and VJ didn't even know there was pumpkin in it (if he knew he would have made a fuss). So here's the recipe.
Ingredients
Gummadikaya Mukkalu (Pumpkin pieces) – 1/4 of a pumpkin chopped into bite-sized pieces
Tamarind – ping-pong sized ball soaked and juice squeezed out (should give you about 1/2 cup of concentrated tamarind juice)
Ullipaya (Onion) – 1 medium sized chopped into bite-sized pieces
Tomatoes – 3 medium sized chopped into bite-sized pieces
Oil – 2 tablespoons
Senagapappu (Channa Dal) – 1 tablespoon
Minapappu (Urad Dal) – 1 tablespoon
Aavalu (Mustard Seeds) – 1 teaspoon
Jeelakarra (Cumin seeds) – 1 teaspoon
Inguva (Asafoetida) – 1/4 teaspoon
Pasupu (Turmeric) – 1/2 teaspoon
Yerra Kharam (Red Chili Powder) – 1 teaspoon
Kashmiri Red Chili Powder – 1/2 teaspoon
Uppu (Salt) – As required
Kothimeera (Cilantro)  – Half a bunch chopped
How to Make
Step 1: First soak the tamarind if you do not have ready-made concentrated tamarind paste.
Step 2: Take the bite-sized pumpkin pieces and steam them. Mine became too mushy because I used the pressure cooker, which I actually liked. If you add them directly without steaming into the gravy, then they will take a long time to cook, so I steamed them beforehand.
Step 3: In a pan, once hot, add oil. A few seconds later, add the senagapappu, minapappu, and inguva. Once the pappu's start changing color, add the aavalu. Once they start spluttering add in the jeelakarra. Now add the onions and give it a quick stir.
Step 4: Once the onions start to turn a bit transparent, add salt and turmeric. Give it a quick stir and add tomatoes. Once the tomatoes start turning a bit mushy, add the red chili powder and the steamed gummadikaya.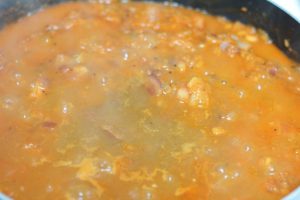 Step 5: Once you have mixed all these together, add in half of the tamarind and some water. Add the Kashmiri Red Chili Powder and mix it again. Reduce the stove from medium to somewhere between medium and low. Place a lid and cook it for 10 minutes while mixing it once in a while (every 2 minutes). Add the remaining tamarind and some more water. Cook until the oil rises to the top. Garnish with Cilantro and serve with rice.
Tips: 
You can add the pumpkin without steaming, but the cook time will increase. You need to cook it until it's soft.
This recipe serves 3 people.
Cooking time is about 30 minutes and Preparation time is about 30 minutes.
You can add more tamarind if you like it tangy like me.
Po