For me making Poori is much easier than making chapati. Probably because it's tastier. Poori was my favorite food when I was a kid but really started not to like it much as I grew older. By the time I was getting married I started to dislike most fried foods. I would rarely eat few at home and mom too made very less at home. I make the dough for chapati or roti or paratha or poori in my Kitchen Aid Stand-in Mixer that I absolutely love and adore. That's one of my properties that I will give away my son in the future because it's absolutely perfect. I have made all kinds of doughs and batter in it and can't let go of it. So when I decided to make poori this morning, all I had to do was plug in my Kitchen Aid and let it make the dough. The secret for a good poori is that the dough shouldn't be soft. It should be a bit hard. So here's the recipe for Poori.
Ingredients
Wheat Flour – 4 cups and 1/2 cup for rolling
Salt – 1 teaspoon
Water – As needed
Oil – For frying
How to Make
Step 1: Combine the wheat flour, salt and water to make dough. Cover and let it sit for 20 minutes.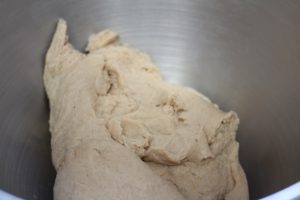 Step 2: In a deep pan, put some oil for frying.
Step 3: Roll into ping-pong sized balls. Taking one, flatten them in some flour. With a rolling pin, flatten the ball until you have a 4-5 inch sized poori for frying. It's important that it's not too thin or too thick. It should be slightly on the thicker size for it to puff out.
Step 4: Make sure the oil is very hot (drop a few cumin seeds and see if they splutter). Once the oil is hot, carefully put in the poori for frying. Once it puffs out, carefully turn it to the other size and let it sit for a minute.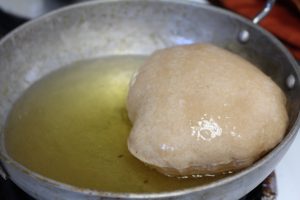 Step 5: Serve it with subji of your choice. I used a Potato Subji here.
Tips:
You can add some oil to the dough while making it.
You can use a deep fryer.
You can make bigger poori's if you want.
If you feel it's too oily, first take it out on a paper napkin before serving (which is what I did).
Po