Veggie Godhuma Rava Upma
Veggie Godhuma Rava Upma
As a kid we hated Godhuma Rava (Bansi Rava, Wheat Rava, Cream of Wheat). As the weekend approached my mom made either of the two things that my dad liked – Godhuma Pindi Dosa (Wheat flour dosa) or Godhuma Rava Upma. My sister and I hated both of them with all our hearts, at least back then. As soon as I moved to the US, I missed mom's special upma and dosa a lot. The wheat rava here is either too thin or too thick. So whenever someone is coming or I get my care package from India, I request for some Wheat Rava from India. I still make Wheat flour dosa now and then.
I make this upma in 3 ways. One way is just simple, with ginger and green chillies, the second is adding onions to the first and finally the third is with a bunch of veggies. I rarely make the third one as I'm really lazy to chop so many veggies. But I was inspired as I received my care package from mum a few days ago. I always loved the way mom made it, even if I replicate the steps exactly as mom makes it, I'll never really get the true taste. Probably because its mom made. I love everything mom makes, even if it sometimes isn't my favorite. I really miss her now. Spending time with her for 3 months is the best gift I could have gotten, besides the birth of my son.
Every weekend is time for groceries. Before Arlo was born we would get groceries whenever we needed, but now we get them on Saturday. So this Saturday I got in fresh veggies and was tempted to make something good. My mind immediately jumped to this and spent a good 40 minutes chopping up the veggies into bite-sized pieces. You can use frozen veggies if you want, but I have stopped using frozen veggies a while ago. You can add a variety of veggies to this recipe. So here's how to make the Vegetable Godhuma Rava Upma.
Ingredients
Ball pepper – 1 whole (Any color is fine, I used yellow)
Beans – 10-15
Carrots – 2
Onion – 1 medium sized
Potato – 1
Green chillies – 3 chopped
Ginger – 1 inch (Either chopped or paste is fine)
Godhuma Rava (Wheat Rava) – 2 cups
Water – 4.5 cups
Salt – As required
Oil – 2 tablespoons
Channa Dal – 1 tablespoon
Urad Dal – 1 tablespoon
Peanuts – 2 tablespoons
Jeera – 1 teaspoon
Mustard seeds – 1 teaspoon
How to make
Step 1: Finely chop all the veggies as big pieces won't be as tasty in the upma.
Step 2: In a pan, add 2 tablespoons of oil, and add the Channa Dal and Urad Dal first. Once they start to brown add in the Peanuts. Once the peanuts start browning, add in mustard seeds and jeera.
Step 3: Once the mustard starts spluttering, add in the ginger and green chillies (I did not add the green chillies here as I forgot but I added them in later with the veggies).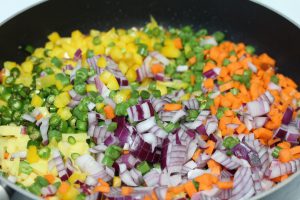 Step 4: After 15 seconds, add in the veggies that have been chopped (You can use the carrots, beans and peas frozen veggie mix instead). Give it a quick stir and add in salt. Mix once again and now add in the water.
Step 5: Once the water starts boiling, add in the wheat rava, lower the heat and place a lid. Leave it for about 12 minutes. After 12 minutes give it a quick stir and leave it for another 4 minutes. Then turn off and serve the upma with lemon.
Tips:
You can make this in a pressure cooker instead of in a pan. Follow the points till step 4, and then in step 5 add the rava, place the lid and let it cook for 1 whistle.
You can add more veggies if you want, but I got tired and couldn't chop more.
You can add peas to this mix too.
I served it with lemon and Palli Podi (Peanut Podi), but can be served with any pickle or podi.
Po