Poori Koora (Subji for Poori)
Poori Koora (Subji for Poori)
I haven't posted about food in a long time. That's because first Arlo was sick and then I was sick. We haven't cooked much in a while and have been surviving on scarps and soups from Costco and Panera. My friends have been kind enough to leave me and my family some food. My sister has been learning how to drive and since then the car is being used by 3 people and so now I have no time to get the groceries. And in all this crazy Arlo decided to sprout 3 more teeth and be miserable and not sleep at night. So I have this terrible migraine for two weeks now, and a fever, a cold, my throat itchy and my voice lost and then Arlo doesn't let me sleep. VJ has been doing his best, but I'm at my wit's end at him because I'm just short-tempered.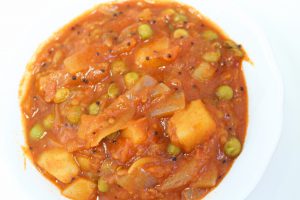 So I've been wanting to eat Poori for a while now. My abstinence from fried food is widely known. If I eat something fried in a month then I wouldn't want again for at least a few weeks. VJ loves fried food. So I decided to make Poori's in celebration of surviving the worst, but somehow something tells me, it can get so much worse than this. So before we succumb to something else, I wanted to make something that both of us like, well three, including my sister. So this morning once I woke up, I ordered everyone not to eat breakfast as I was making Poori for brunch. Making Poori is easier than making Roti (at least for me) but so unhealthy. I haven't made Poori since before I gave birth to Arlo, so I decided to make some. I don't make dough with my hands and use Kitchen-Aid so it saves me like a ton of time. So here's the simplest recipe for Subji that can be paired with Poori or Roti or Rice. To check out the recipe for Poori, just click on the word or here.
Ingredients
Onion – 1 whole chopped long and thin
Tomatoes – 4 medium sized
Green chilies – 5 chopped thinly (adjust according to your palate)
Potato – 4 small (boiled into bite-sized pieces)
Green Peas – 1 cup
Kashmiri Red Chilli Powder – 1 teaspoon
Garam Masala – 1 teaspoon
Turmeric – 1/2 teaspoon
Salt – As needed
Oil – 1 tablespoon
Urad Dal – 1 tablespoon
Mustard Seeds – 1 teaspoon
Jeera – 1 teaspoon
Asafoetida – 1/4 teaspoon
Water – 1/2 cup
How to Make
Step 1: In a bowl or pan boil the potatoes with a teaspoon of salt. When the water starts boiling add in the Green peas into the boiling water.
Step 2: In a pan, once heated, add the oil. Once the oil is hot, add the urad dal. When the dal starts to change color, add the asafoetida, mustard seeds, and jeera. Once the mustard seeds start spluttering add the green chilies. If you don't like to eat them, slit them lengthwise and add them. Immediately add the onions.
Step 3: Once the onions turn translucent add tomatoes, turmeric, salt, Kashmiri Red Chilli Powder and Garam masala and give it a mix. Let the tomatoes cook for a while. Once they turn mushy add in the potatoes and green peas.
Step 4: Mix up everything and add water (you can add more water if you like it runny). Once the water is all absorbed and the oil starts to separate turn off and serve with Poori/Roti/Rice.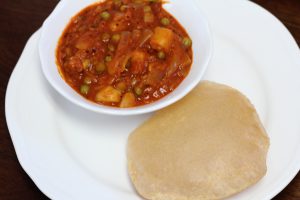 Tips:
You can add more veggies like carrots, bell peppers, beans, and cauliflower.
You can add yogurt, skip the peas and make it dum aloo.
I was out of green peas so i used half cut green peas and half cup surti val papdi (frozen).
Po