We love Pav Bhaji at our home. It's so easy to make and full of veggies. It's also diabetic friendly as I eat more of the bhaji and eat less of the pav (bread). I eat almost 2 cups of the bhaji. I make this with different veggies and whatever I have leftover in the fridge. Today I didn't have any hamburger buns or pav's, so I used sandwich bread. I first started making it with cabbage because that was the one vegetable that I couldn't get VJ to eat it. But now he's okay with it, so I make with whatever is in the fridge. Now that I have my Instapot it's so easy to make Pav Bhaji, though it's easy in my good old Pressure Cooker too. I've included pics for Instapot and included the recipe for the Pressure Cooker. The first time I ate Pav Bhaji was when I was about five, at Raniganj in Secunderabad. My dad would always take me there and I would steal everything from my mom's plate. I miss being little and worry-free. And also I miss mom's Pav Bhaji.
Mom is a great cook, but she couldn't make anything other than South Indian for a long time. My sister and I wanted something special every weekend, so my mom got creative and would make special dishes for us. The very first time she made noodles both of us did not eat it because mom made it like upma, but she steadily improved her cooking of exotic food for us. Yes, back then noodles and Pav Bhaji were exotic foods for us. We loved it when mom was making something special which my dad hated. My dad is a complete Andhra guy – he wants his dosakaya pappu and chaaru every day with his food or he doesn't feel full. Mom made this differently and obviously, it's not the traditional Mumbai Pav Bhaji, but it is a version of it. So, here's the recipe.
Ingredients
Onion – 2 chopped thin
Tomatoes – 3 chopped thin
Cauliflower – half cut into flowerets
Carrots – 2 chopped into bite-sized pieces
Peas – 2 cups
Potato – 1 chopped into bite-sized pieces
Green chilies – 3
Ginger – 1 inch long pieces
Salt – As required
Coriander Powder – 1 tablespoon
Turmeric Powder – 1/2 teaspoon
Pav Bhaji Masala – 1 tablespoon
Kashmiri Red Chili Powder – 1 tablespoon (optional)
Water – 2 cups
Oil – 1 tablespoon
Ghee – 1 tablespoon
Cumin Seeds – 1 teaspoon
Asafoetida – 1/4 teaspoon
Bread – as needed
Lemon – for garnish
Paneer – grated for garnish (optional)
How to Make

Step 1: Make a paste of the ginger and green chilies and keep them aside. Put the Instapot in Saute mode and wait for it to become hot (If using a Pressure Cooker, turn it on and make sure it's hot). Once hot, add the oil and ghee let the ghee melt. Once the ghee has melted add the cumin and asafoetida.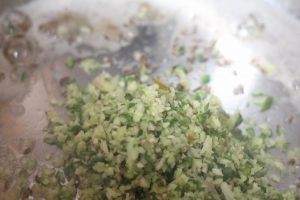 Step 2: After 30 seconds, add the ginger and green chili paste. Before the paste sticks to the bottom, add the onions (keep a few aside for garnish). Keep stirring them until the onions become transparent. Add the turmeric, salt and coriander powder and let it cook for 2 minutes. Now add the Pav Bhaji Masala and the Kashmiri Red Chili Powder.
Step 3: Once all the masalas are mixed in add the tomatoes. Let the tomatoes cook until they become mushy. Now add the water and let it cook until the oil separates.
Step 4: Now add the potato, carrots, cauliflower and peas and give it a quick mix. Place the lid on the Instapot (or Pressure Cooker) and cook it for 18 minutes High Pressure (Manual) or 5 whistles on the Pressure Cooker.
Step 5: Once the steam is released and it's safe to open the lid, mash the veggies that are super soft now. If you have an immersion blender you can use that, but I used a potato masher that works really well. Cook it for a few minutes and turn it off.
Step 6: Serve it with grated paneer, onions and some lemon on top with a side of bread/dinner rolls/or tortillas.
Tips:
You can use sweet potato or pumpkin instead of potato.
You can use Frozen Edamame instead of Frozen Peas.
You can use cabbage along with cauliflower.
You can skip the Pav Bhaji masala and instead add garam masala.
You can add cilantro to the garnish.
You can adjust the veggies as you wish (reduce one veggie and increase the other).
This recipe serves 2-3 people.
Po