Mithru Rachamalla's Ordinary To Extraordinary
Mithru Rachamalla's Ordinary To Extraordinary
There are many people we meet on our journey in life. Sometimes we meet so many we lose track of who we met and what their names are. And I met a person who will leave their footprint in my life – Mithru Rachamalla. Our journey into each other's life happened by a fluke. One of my friends shared a written story on a website. I didn't know you could do that. By nature, I am a very shy writer. It took a lot of persuasion from VJ and Pooh to push me to finally do what I want and what I have always wanted. It has been hard to do what I want when people don't want to read what I write. But then came Mithru, he gave a platform for everyone like me, to stand up, follow their dream and not slow down in their dreams. Amateur writers flock down at the ArtoonsInn page and discuss everything – from the recent movies to a story one of them had written down.
He's one of the youngest people I know who's had the courage to chase down a dream that he would benefit nothing from. The impact that he has, though is very small, is very large in those who just want their writings to be seen. ArtoonsInn is the first place where my fictional writings have been published. I wish I had the courage to write and publish more often, but sadly I don't. My friend 'M' thinks I write the most amazing love stories ever. I am utterly romantic, but I keep thinking if she's just being kind. Pooh goes on and on about how I am an excellent writer, and it's probably because she loves me too much. Mithru is surrounded by people who want to help.  His passion to unite people for their hobby is something that no one has ever thought of before. ArtoonsInn is unique, new and growing so fast. The amazing thing about Mithru is that he encourages everyone to come up with ideas. He asks every single team member to put in what they think, their innovative thoughts, their inspiration which leads to their monthly prompts, new ideas for story themes, new ways to encourage others and so much more.
MITHRU RACHAMALLA
Education – Graduate(Computer Science)
First time you made a name for yourself?
Back when I was still in high school, I was a huge fan of Michael Jackson's dance. I tried to copy his moves and do them exactly as he did. After I was done with homework, that was pretty much the only thing I had to do.
To be more specific, there was a performance by MJ in 1995 from 'Dangerous'. I must have watched it like a million times, every time trying to copy his moves, and then one day I perfected it. Even the famous Moonwalk!  I have never been a dancer. I was an introvert back in school but I guess I always wanted to be more than some guy who talked to himself, kept his notes up to date and sat in the first row closer to the board. I wanted to prove, mostly to myself, that I could reach beyond my boundaries. When I registered myself to dance in front of the school I was mortified. I vented to my sisters and slept with a heavy heart. The next morning my sisters surprised me with the MJ attire – black pants, white shirt, black shoes, white socks, and even a BLACK TIE! Since that performance at school, I was always Mithru who dances like MJ.
Personally, I know your story of how you started ArtoonsInn, but can you tell me how you launched this amazing website? How did you come about with the name?
That is really kind of you, but it is not amazing, YET. I hope that it will become one in the coming years, though. Blogspot was my first choice to share the stories but overtime Blogspot failed to provide features that I required and then I finally decided to have a separate website for ArtoonsInn. But, I had just quit my job and was completely broke. Blogspot failed me. My only goal then was to give community members access to all the stories through a systematic approach. I looked around at all the free websites, but none caught my eye for ingenuity. I was battling with this for months when my granny came to visit me. My granny is someone I can trust with my life. She's one of her kind and she loves me. I can keep talking about her. When I told her about what I was going through and she asked me what I was getting out of it. Honestly, I kind of blanked out. My granny caught me off guard and I didn't know how to answer that question. My thoughts drifted towards ads on the website but that just seemed wrong. I didn't want to make money out of somebody else's art and hard work. As I was immersed in these thoughts, she understood and still gave me what I needed.
ArtoonsInn. I wanted to build a community that brought together various artist to display their work. We were initially called 'Write India' but I realized that the community cannot just be about writings. I wanted to have a global title and then chose 'Artists Together'. We even designed a logo. Everything was so new, and I sort of started to get with the flow. I was just on the first step on my ladder to my vision. A few weeks later my mind wouldn't sit on the name, so I racked my brains and out came ARTOONS! A replacement for the word Artists. I loved it. As I said it more in my mind I began to love it even more. I wanted a synonym for Community, as the word community seemed very primal. I wanted more divisions within the community, not just writers or readers, but painters, bloggers, travelers, dancers, movie makers or anyone with a talent. I didn't want all of them on the same page since it would be too crowded and chaotic. Then I came up with INN. An Inn could have several rooms, each room comprising of a unique set of talents or a unique art. All the talents under one roof – ARTOONSINN.
How was it in the starting?
In 2016 we were just a small community, with about a hundred writers but only five active members at any given time including myself. The first writing event that we conducted was by me and another friend – Shankar Hosagoudar in June 2017. We received a total of four submissions which included mine and his. I still remember the day when we received the first entry. I was ecstatic. We had to move on to conduct another event the next month when we had 5 entries. They were beautiful stories. Shankar started writing reviews to the submitted stories and that created a lot of buzz. In the following events, we shared an interesting prompt for everyone and we received quite a few entries.
The gap between readers and writers was closing in. They were sharing their opinions and thoughts; sometimes they just talked. I loved everything that was happening, it was just as I had imagined. I felt alive. I wanted to do so much more. I tried as much as I could to bring in more writers and readers. I  encouraged them to participate in the writing events we conducted. Most of our stories were on Google Drive after they were submitted and we used to share the links to them since our website wasn't set up yet. Now it's much better and easily accessible, but it was really messy back then. It feels so good remembering those days.
What are some of the obstacles that you had to face? And how did you deal with any negative comments that came your way?
I know I mentioned this before, everything to me here was new. I was just a kid with a  huge ambition to bring distinct artists together. Shankar was one of the pillars of ArtoonsInn. He was involved as much as I was. When he left it hit me hard. I felt like I cannot continue on my own and that I lost all the support. However, there was one other person – Olinda Braganza. She was a quick learner and understood what is to be done and how it is to be done. She supported me with a lot of dedication and things were running along but also getting bigger. The community reached a milestone of one thousand community members. That was when we moved to Blogspot. I am a computer science student so I modified a few things on the template and designed a few more additions to make it to our likes. I needed more helping hands now. I wasn't paying but some people liked what I was doing and wanted to be part of it. Two new members joined. Things settled in the coming months and I finally managed to manage everything smoothly. Everything was going so great. At least that's what I thought.
Almost a year passed and I never realized the important things. I was still in that I-am-nowhere-near-those-big-things zone. I ignored the most important thing – RULES. When you are managing something big, you must have limitations, legal stuff dealt with, copyrights and policies, protocols for team members to follow. You did suggest me to update them, Po. I didn't mind not having them at first, but as I learned the importance I didn't waste any time. I wrote all of the rules and website policies by myself because I couldn't afford to hire a lawyer. But however, I would have never approached a lawyer. I have trust issues with politicians, Police, Lawyers, and people who talk too nice.
So, yeah, there were some bad situations.
In fact, there's always some pressure dealing with people of different age groups and mentalities in the community. Though the community has rules, I doubt if anyone even cares for them. Sometimes I see people fighting over silly things, abusing each other, complaining about event judgments, negative opinion on the community and pointing out flaws. I have also seen people leave the community over miscommunication. I have had complaints and even bore through humiliating words. However, the compliments I get for creating the platform balances out all the negativity.
The bigger issues I faced came from the base of operations – within my own team regarding the team protocols. Though I share a really good relationship with my teammates, I'm really serious when it comes to the community – ArtoonsInn. Some team members may not like me when I remind them of protocols or reject an idea. Sometimes I have to make decisions when a team member or community member crosses the line and misbehaves. I even had to ask some of the ex-teammates to leave the team. These are the things that I hate to do. I am not a guy who talks against someone but I don't know what to do in these situations and I cannot be silent. I have a role to play to keep things fair. A year ago, two of my ex-teammates exchanged some offensive texts against a new team member who just joined. So, I had to remind them not to do that again. They made up things that I never heard about to hurt, humiliate me in front of the other teammates just because I reminded them to follow team protocols and not offend another team member. They ruined everything they'd done for ArtoonsInn just in the matter of minutes. Even if it wasn't for team protocols it's the basic thing to have a peaceful life. I wondered how people can change in a matter of minutes. Even though the other team members were supporting me, I felt quite alone that night. I had to go through a lot of humiliation and face abusive words. I couldn't sleep properly for weeks. My anxiety was at its peaks. It wasn't easy at all. It is very hard when people who are twice your age behave like juveniles. Of course, you take their words personally because you genuinely loved them. ArtoonsInn is teaching me so many things that I would have never learned outside.  
Everybody in the world had faced negative comments at some point in their life. Some people get mad and some pollute themselves with them and then some just plainly ignore them. It's our choice how we see our life.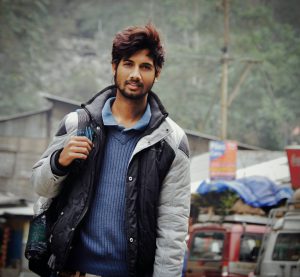 Is your family supportive of your ideas? If you were to quit your job and promote ArtoonsInn full time would they support you? Would you do only ArtoonsInn full time?
Like any other family, mine wants me to settle down with a 9 to 5 job and then work on ArtoonsInn. I don't think they really understand about ArtoonsInn or know anything about it. Maybe it's because I never really discuss it at home. They keep taunting me that I keep 'playing' with my laptop all the time and I'm tempted to tell them, but I am busy working on designing the templates or discussing event ideas with the team or checking the discussions in the community. I have already quit 2 jobs since I couldn't concentrate on them. My mind has been totally focused on ArtoonsInn. I first thought I could take a break and work on the developments later, but when things started picking up I couldn't think of taking a break and pick up the slack later.
How was it dealing with those slow days?
Slow days, you mean when the traffic was down?! Well, I stopped caring about the traffic on the website. I took down all the ads too. However, when there is no noise in the community, I tend to be the one to create the noise myself. I enjoy communicating with the members. I made a few friends, too and they are quite lovely to talk to.
How do you balance both work and ArtoonsInn? Is it hard on your personal life or life with family?
It was tough when I was working, so I quit. Yes, my family thinks that I am unemployed right now and that nobody will marry me if I don't have a job. They don't literally say these words to my face, but I do eavesdrop sometimes. I am not really into marriage and also not bothered about a permanent job. I am living my life the way I want and that is the only thing that matters to me.
Who inspires you the most in your everyday life?
Movies. I watch a lot of movies and movies are my main source of inspiration. We also share a good movie suggestion every Friday night for the community members to watch.
Where do you see yourself 10 years from now? Do you think this is the place you thought you would be 10 years ago?
Apart from building ArtoonsInn, which has no particular limit, I want to become a good travel blogger. That's the only thing I really want to do with my life. Soon, I am going to open a Travel bloggers room in ArtoonsInn and start blogging my travel experiences there live. I used to do the same thing during college, but I didn't really have a good platform to share them then. I used to write them in my personal diaries.
And, no, 10 years ago, I didn't think I'd be here. I thought I'd be a pilot. And, why I am not a pilot now is a totally different story.
Your encouragement to those closet writers is amazing, how do you think they should overcome their timidness?
I think I myself need advice time to time to overcome timidness. But what keeps me moving forward is the encouragement that I get from the community members. I had a community member send me a friend request and talk to me personally. She wanted to contribute to ArtoonsInn and sent me a cheque for the development. Another person contributes prizes time to time for ArtoonsInn writing events. Some send me personal messages telling me that this is the best writers and readers community that they have come across and that ArtoonsInn is helping them to open up and write.
But that is not the question is for.
Yes, I do have an advice. Join ArtoonsInn, Writers and Readers Room. This is exactly the place where you can learn to overcome your fears. There are people in our room who will hold your hand and motivate you. They will share their knowledge and help you move forward. There are people who were just like you and now they are ARTOONS. They will understand what you are going through. You can become part of ArtoonsInn, Writers and Readers' Room, here's the link: 
https://www.facebook.com/groups/WritersAndReadersRoom/
Do you think you are going to get into publishing?
I am actually hoping to start the ArtoonsInn publishing house, but yeah, that we'll discuss sometime in future.
We hope Mithru achieves all his hopes and dreams and succeeds in lauching a Publishing house in the future. Over and over again, we want everyone to follow what their heart wants to do. For us it's to change the world one small step at a time. For Mithru it is to see all talent united under one roof. It doesn't matter what your background is on. It doesn't matter if you don't have a single penny in your pocket. You will find the help you need, as Mithru did in his journey. We at Jabberfoodwocky would like to personally thank Mithru for sharing his personal journey and an opportunity to see talent from a different lens.
ALL THE BEST ARTOONSINN!
Best of wishes,
Pooh & Po